R Download Shortcut Free Latest version 2023 v7.77 IOS (13, 14, 15, 16, 17)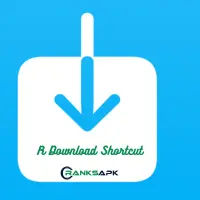 R Download Shortcut for Fb, Instagram, Twitter, YouTube
(Note: TIktok FIxed, can't Connect General iCloud issue has been resolved)
(Note: Twitter has been Fixed Now)
First Meta Shortcut App, Facebook, YouTube, and Instagram downloader has been fixed and working now in R shortcut 7.74)
Are you searching for the most reliable iPhone downloader? If you're an iPhone user, you've probably heard about the R download shortcut that is trending and capable of handling many tasks. This article will guide you about what is the R shortcut, including how to use it and the method of downloading it.
iPhone devices do not come with a built-in downloader, so users need to find and install one from the web or the App store. This allows them to download files from websites without a direct download link or download button. Additionally, it can enhance download speed, and download files in various qualities and formats.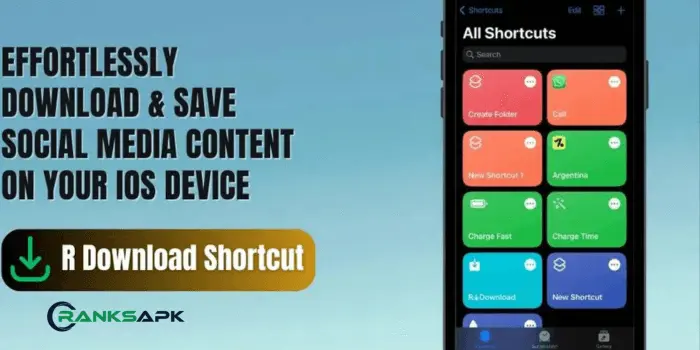 R Download Shortcut is a popular iPhone shortcut that can be used to download various types of files, including music, videos, documents, and images. Quickly and easily download any file from any website or mobile application thanks to the app's easy-to-use interface.
The R shortcut allows you to get any reel, Video, image or document from any platform such as Instagram, TikTok and Youtube and Facebook. You can select the download quality of your desired download file.
What is the R Download Shortcut
A trending shortcut known as an "R shortcut downloader" can be utilized to accelerate and facilitate files download from the internet to an iPhone. The shortcut executes the task through the creation of an automated script, resulting in a fast and easy downloading experience. Downloads can be facilitated through different methods, including web scraping, APIs, and built-in browser utilities.
Instead of manually downloading the video, you've got a tool that does it for you in just a few clicks. With R Shortcut downloader for IOS, you can download videos from various websites, including Twitter, Instagram, Tiktok without Watermark and Youtube.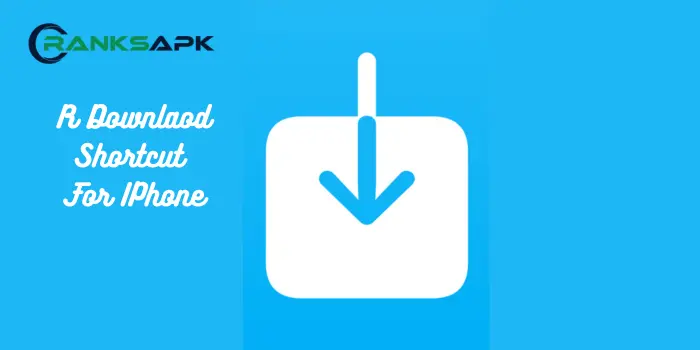 How to convert from R Shortcut 7.74 version to Latest updated version 7.75 of R Shortcut?
You've to visited RanksAPK regularly for new version if your R shortcut 7.58 to 7.74 giving you an option for update.
What's New in the Latest version of R Download Shortcut
Fix Instagram Downloading Photo, Video, Reels, files
Add more server of YouTube 1080p Supported
Fix Twitter and FB videos downloading
Fix Tik Tok videos downloading
Remove watermark from videos
Features of the R Download Shortcut
Social Platforms Compatibility
R Download is a flexible and adaptable Siri Shortcut that enables users to download various types of content such as photos, videos, reels, and stories from different social media platforms. The tool works with TikTok, Instagram, Youtube, and Twitter, all of which are popular social media platforms.
It's essential to remember that this shortcut isn't compatible with all social media platforms. For instance, it can't download content from Snapchat. Nevertheless, the tool is regularly updated to incorporate enhanced features and support additional platforms.
Download Videos Without Watermark
If you're searching for a way to download videos without watermarks especially from TikTok and Youtube on your iPhone, R Downloader can be the ideal solution. With R Downloader, you can download videos from various websites such as Youtube, TikTok without worrying about the annoying watermarks that many video downloaders leave behind.
Free Downloading
If you're searching for an application that can download images and videos free of charge from the above mentioned social platforms, R Shortcut is the answer. With its simple UI interface and powerful download potential, R Shortcut is up to the mark for iPhone or iPad users looking to download media files such as images and videos from the internet without spending a penny.
Download Multiple Files
Multiple files can be downloaded simultaneously with the R Shortcut. By using this tool, you'll be able to download entire albums of images, or videos playlists with just a few taps.
Download Speed Optimization
R Shortcut optimizes download speeds to download images and videos quickly. The shortcut uses multiple connections to the server to maximize your download speed.
Simple User- Interface
As a newbie with no technical background, discovering yourself in an unfamiliar application can be intimidating. However, this is not an enormous challenge with R Shortcut. Not only is this software notably unadorned, but it is also remarkably simple to navigate.
You can instantly download and launch the application without instructional materials or difficulty. Additionally, the application's exceptional responsiveness is an excellent advantage.
No Ads
If you want to download files without being interrupted by pop-up ads then you should try the R shortcut that gives you an uninterrupted interface to download files faster.
How To Install and Use R Download Shortcuts For Your iPhone OR iPad
To install and set up R⤓Download, you will require an iOS device, such as an iPhone or iPad, with the latest iOS version installed. To embark on the journey of downloading, it is necessary to equip yourself with the all-important Shortcuts application, which is pre-installed on iOS devices. If you don't have this vital shortcut app in your iPhones or iPad, it can be obtained from the App Store.
How to download R Shortcuts on iOS
Tap on the "Download Shortcut" button above to download and install the R⤓Download shortcut on your device.
Open the Shortcuts app and click on the "My Shortcuts" tab that can be found at the screen bottom part.
R⤓Download shortcut will open after tapping its icon.
How to Use and download files from R download Shortcuts on iOS
First Method
You need to put the URL in the designated "URL" field of the desired file you're looking to download. Please ensure to enter a file name in the given Filename field. The downloading of the R Shortcuts Downloader starts when you've tapped the download button.
Second Method
We're providing you with an alternative method by which you can download social media files easily.
To download content, whether it be a photo, video, or reel, from Instagram or any other compatible platform, simply open the content you want to download and tap on the "Share" or "More" button. Start the automatic download process by selecting Shortcuts R Download from the options that appear.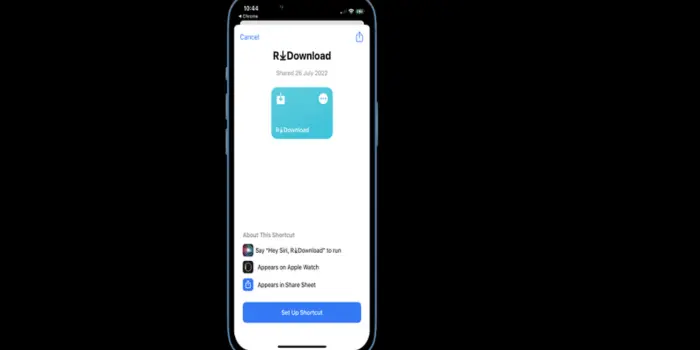 Pros and Cons of R Download Shortcut
Recommended Shortcuts
Final Verdict
In conclusion, R Shortcut is an ad-free interface that offers a superior download experience. With faster download speeds, reduced data usage, and increased safety and security, R Shortcut software application is the perfect tool for anyone looking to download videos and images files without distractions.
Download and install R Shortcut today on your iPhone or iPad and enjoy seamless and ad-free downloading. Please give your feedback about R Shortcut Latest version. If you're facing any difficulty during installation or file download you can inform us on our contact us page.
FAQs