How to Easily Download Videos from Pinterest?
Pinterest does not provide users with built-in options to download videos, making it difficult to download videos on Pinterest. However, there is a simple solution to download Pinterest videos: by using a reliable Pinterest downloader. 
This tool enables you to easily download videos, allowing you to save the ones you like. It is important to keep in mind the terms of service provided by Pinterest while downloading videos, as downloading or sharing copyrighted content may be considered illegal.
Steps to Easily Download Videos from Pinterest
Although Pinterest does not provide a built-in download option for videos, there are simple methods you can use to download videos from Pinterest. Here are the steps to easily download trending videos from Pinterest
Step 1: Find Pinterest Videos
Pinterest offers a collection of user-submitted images and videos, with boards in different categories and themes. Take your time to find videos that interest you.
For example, you can find videos that match your interests and tastes, such as cooking recipes, DIY projects, travel ideas, and fashion styles. When you see the video you want to find, click it to open its individual Pins page. On this page, you can play videos and check detailed information.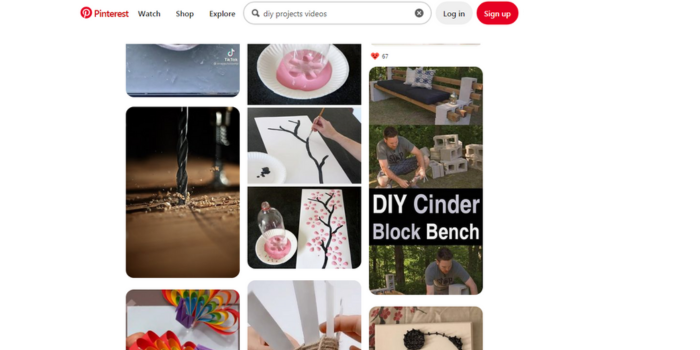 Step 2: Copy the Video URL
To download a Pinterest video, you need the URL of the video. If you're on an individual Pin page, click the copy icon in the upper-right corner of the video Pin. From the menu options that appear, select the Copy Link option. This will automatically copy the video URL to your clipboard.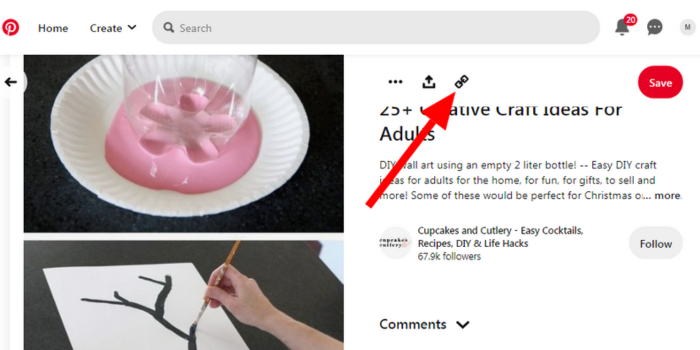 Step 3: Use a Reliable Pinterest Downloader Tool
Now that you have the URL of the video use any reliable Pinterest downloader tool to do the download. A Pinterest downloader tool is a special software or web service to download Pinterest videos easily and quickly.
When choosing a Pinterest downloader tool, pay attention to reliability and safety. It is a good idea to refer to reputable tools and user reviews. Also, check if the tool requires installation or registration or is available online.
Step 4: Paste Video URL
Open your web browser and visit Pinterest downloader tool website. It has a text box for pasting URLs. Copy the video URL and paste it into the text box or field.
You can simply click the text box and select the "Paste" option or use your keyboard shortcut "Ctrl + V" to paste the URL. Ensure the URL is correct and complete and the URL pasted into the textbox displays fine.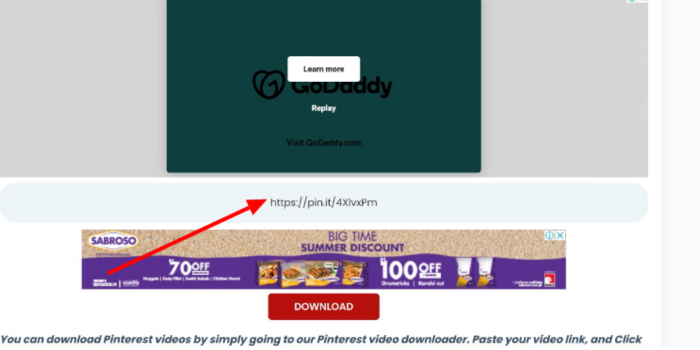 Step 5: Start Downloading
After pasting the video URL, click the "Download" button on the Pinterest downloader tool to start the download process. This action causes the tool to parse the URL and fetch the video from Pinterest's servers.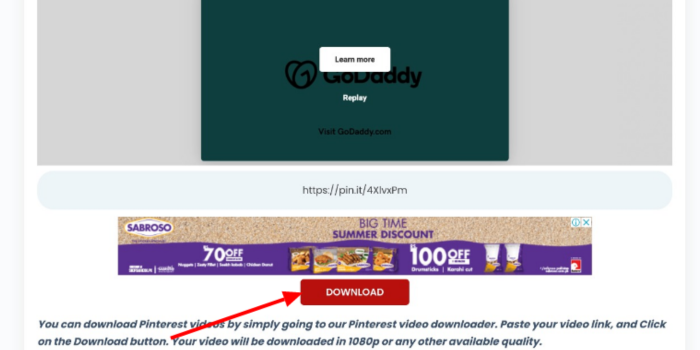 Step 6: Choose Your Preferred Video Format
You will receive various download options after the Pinterest downloader tool grabs the video. These options include download thumbnail, force download thumbnail, download video and force download video. Choose from the options. You can choose according to the playback device and purpose.
Step 7: Complete Download
After choosing your preferred option, let's start the final download process. Click the "Download" button on the Pinterest downloader tool. Videos with large file sizes or slow internet connections may take longer to download. Wait for the download to complete.
Step 8: Access Downloaded Videos
Go through your device's storage and look for the downloaded video file. They are typically saved to your "Downloads" folder or a specific folder designated by your web browser's settings.
You can use a file manager app, gallery app, etc., to check the storage location and find the downloaded Pinterest videos. Tap or click the video file to play and enjoy.
By following these steps in order, you can easily download videos from Pinterest. Find the video you want on the Pinterest app or website, copy the URL, and use our reliable downloader tool to download it in the right format. Once the download is complete, access the saved video files and enjoy.
See Also:
Download R Shortcut on iOS for downloading any shorts from Facebook, Instagram and YouTube.
Download Alight Motion MOD APK for edit your photos after downloading.
Is Pinterest Downloader Safe to Use?
The safety of using Pinterest Downloader depends on the tool or web service you choose. As long as you are using a reliable and official Pinterest downloader tool or a reliable web service, you are generally safe.
So, when choosing a safe Pinterest downloader tool, it is important to carefully research reputation, reviews, and trustworthy information. It's also a good idea to keep your security software updated before downloading it to protect your device from malware and viruses.
To protect your personal information and the security of your device, we recommend using download tools from official sources.
Is it Legal to Download Pinterest Videos?
Downloading Pinterest videos is generally legal but subject to copyright laws and Pinterest terms. Unauthorized downloading or redistributing copyrighted content is illegal, so be careful if individual videos are copyrighted.
To download videos legally, it is important to check each video's terms of use and copyright information and follow the proper use.
Why Is There No 'Download' Button on Pinterest?
The reason Pinterest doesn't have a "download" button is to respect the copyright of the content. To allow copyright holders to control the use and distribution of their content, Pinterest does not provide download functionality.
Conclusion
Remember to download videos according to Pinterest's terms of service and copyright. Downloading or sharing may be illegal if certain videos are copyrighted. Always respect copyright and lawfully use videos. Also, limit the use of downloaded videos for personal purposes and ensure that proper permission is obtained for any commercial use.